Concrete Moisture Testing
Certified, Independent Results
Certified Concrete Moisture Testing
Auckland Floor Prep offer independent, certified concrete moisture testing services throughout the Auckland region. Concrete might seem impervious, but moisture can easily threaten and damage concrete slabs and your flooring. With the right concrete moisture testing though, you can avoid potential problems.
What is Concrete Moisture Testing?
In short, concrete moisture testing involves using RH sensor probes to measure the level of moisture in a concrete slab when it is due to be sealed or to have floor coverings installed. It can be used for old concrete slabs or new.
The tests provide accurate, reliable, scientifically proven data so that you can decide when to go ahead with your flooring installation. Not all flooring types have the same moisture tolerance so getting an accurate measurement is important.
At Auckland Floor Prep, our concrete moisture tests are certified by the International Concrete Repair Institute (ICRI) and are carried out to both the required NZ Standards and also the ICRI Standards to ensure trustworthy test results.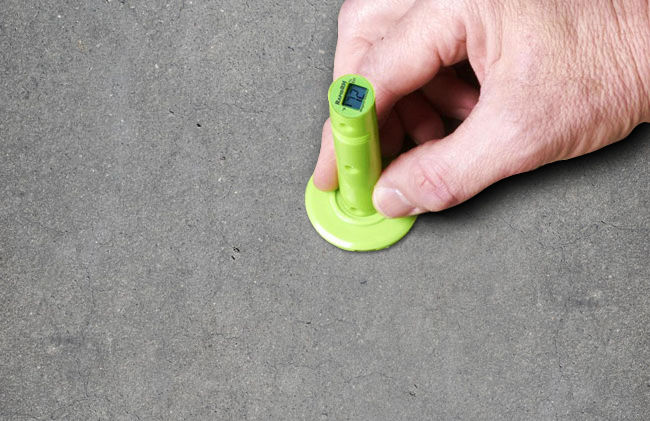 When Do You Need to test your concrete floor?
It's important to schedule professional moisture testing with new projects, renovation work, or if you are experiencing flooring failure issues.
New Construction – Home or Business
If you are in the process of having a new home or business built, concrete moisture testing of your new concrete slab is crucial before giving the go-ahead to install your new floor coverings. This applies regardless of the type of flooring to be installed. Failure to ensure the concrete is dry enough before installing the new flooring can result in moisture damage to your new, expensive flooring. It is not always possible to accurately guess how soon a slab will be dry, so testing is always advisable.
Renovation Projects
An old concrete slab is not necessarily a dry one, so it is always safest to test first. So, whether you are making small changes or taking on a major renovation project, don't skip out on testing your concrete. It will pay off in the long run by preventing problems in the future and will help to keep your renovation project on track. Avoid wasting time and money by testing at the right time – before the new flooring goes down.
Flooring Failures
Moisture testing can help determine the cause of flooring issues such as glue failures, timber floor buckling, and tiles lifting, etc. Testing can also help settle disputes around the reason a floor installation has failed.
If you need your concrete floor tested for moisture, feel free to get in touch today! Auckland Floor Prep is a leading provider of moisture testing for concrete floors Auckland wide.